A Thanksgiving party is all about the perfectly cooked, lavish dinner that includes succulent turkey, mouth-watering side dishes, and scrumptious pies. Since all the focus of this event is on feasting on delectable cuisines, let the event rentals handle the arrangements while you concentrate on the food. We will provide you a menu along with recipes which will leave your guests with satiated taste-buds and a happy tummy at the end of the event!
Butternut Squash Soup –A Delish Appetizer
The sweet richness of this velvety fall soup will be a divine experience for your guests who would definitely not be able to stop themselves from coming for a refill! Made from seasonal butternut squash; the spunk of cinnamon, nutmeg, and licorice root give an awesome, celestial flavor to this soap and we guarantee you will be picking up empty dishes at the end of your first course!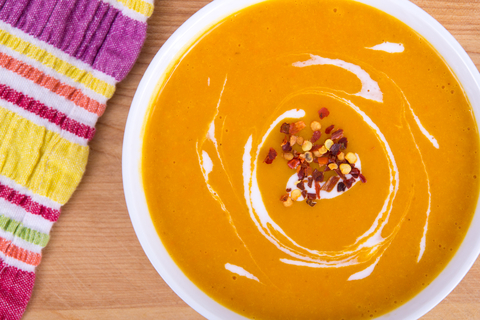 Roast the squash with olive oil till it's soft and caramelized
For the soup, melt 2 tbsp butter and add 2 cups sliced shallots, 1/3 cup smashed garlic cloves, 1 tsp fine sea salt, 1/2 tsp ground white pepper and 1 spice purse
Cook for 3 minutes and add ½ cup wine and cook to half
Add ½ cup cream, squash, 1 tbsp sugar, 8 cups vegetable stock to it and cook till melted
Remove spice purse
Season with cinnamon, nutmeg, and licorice root
Blend the soup and strain
Serve it hot
Roasted Turkey with Herbs-De-Provence Rub –The Heavenly Main Dish
Turkey is one major dish that you absolutely do not want to go wrong with.
A delectable turkey infused with refreshing flavors is a major main course dish and the crown of your thanksgiving table. Since it is the prime thanksgiving main entrée, you must make it in excess with enough to last throughout the party. It is best to first brine your turkey for a day for a succulent, juicy flavor. Stuff the cavity with onions and carrots and spice it up with a zesty rub for a heavenly experience! You can serve it with gravy and garnish with bay and citrus leaves to embellishments on your dish.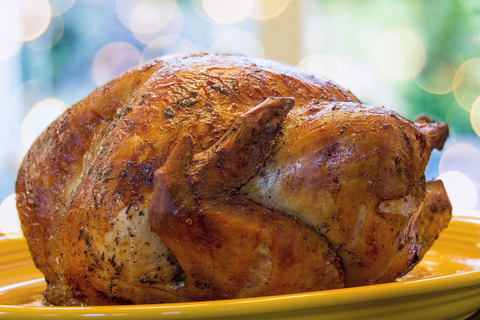 Following is a fool-proof recipe you can follow to achieve perfection in the particular department of a thanksgiving dinner party.
Brine the turkey overnight for a succulent, juicy flavor
Stuff the cavity with onions and carrots and spice it up with a zesty rub which includes fine ingredients namely ½ cup dried lavender, dried thyme, 1 tablespoon each salt, 2 tablespoons white peppercorns, and fennel seeds
Cover with aluminum foil
Roast for 4 hours by basting the turkey every 30 minutes.
Let turkey rest for 20 minutes
Cut off butcher's twine
Remove carrot and onion from cavity
Serve with gravy and garnish with bay and citrus leaves
Mashed Potatoes and Gravy –the Savory redefined
Most Thanksgiving menus include side veggies fix like sautéed cabbage, leeks with apples, butternut squash gratin, Brussel sprouts etc. –but my pick is everyone's favorite mashed potatoes topped with lusciously spicy gravy.
It is a simple yet popular side dish that you must have on your thanksgiving table at all costs! You can experiment with it a lot and get your guests involved in creating their own versions of this dish. Mashed potatoes are very popular with kids also who love the mashing process! Adding some butter to the mashed potatoes will give them a nice texture and flavor and also seasoning the gravy with tamari, sage and thyme along with regular salts will offer you a finger-licking good combination.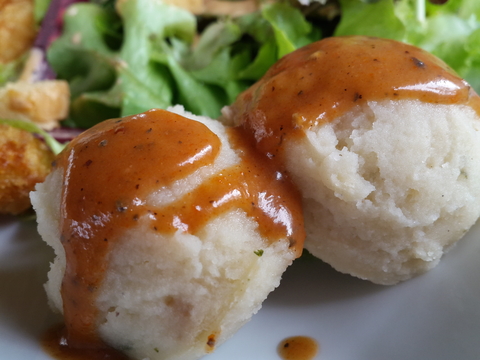 Add some milk, salt, pepper and butter to your mashed potatoes and mix well
For the gravy, heat some flour till medium brown and put aside
Sauté onion for 2 minutes and add garlic and again sauté for 2 more minutes
Add vegetable stock, thyme, salt, nutritional yeast makes, tamari, sage, and black pepper to browned flour and whisk well
Add mixture to sautéed onion and thicken gravy
Serve over the mashed potatoes
Pumpkin Goat Cheesecake –A soulful Dessert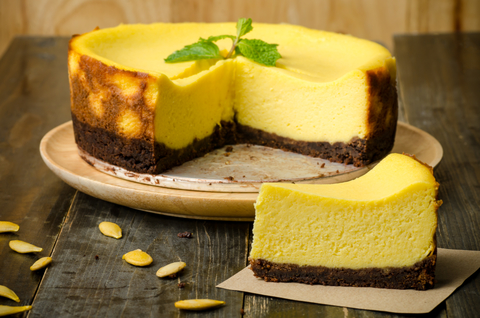 What more can you ask for post-thanksgiving dinner than a melt-in-your-mouth, scrumptious pumpkin and goat cheesecake? It is the perfect dessert to enjoy along with your latte! The punch of pumpkin in your cake will really give it a thanksgiving holiday feel and flatter your guests' sweet tooth. Top it with lightly whipped cream for a blissful dessert experience!
For a scrumptious cheese cake to nibble on along with your latte, you need to do the following steps:
For the crust, mix ¼ cup Granola, 1cup Graham cracker crumbs, 1/3c brown sugar, and 1/4 teaspoon each cinnamon, ginger, nutmeg, and salt. Stir in 6 tbsp unsalted butter and bake by spreading evenly in a pan
Beat 8 oz. goat cheese, 1 ½ c. granulated sugar and 2 pack cream cheese separately
Add 1/4c pure pumpkin, 3 eggs and 1 ½ tsp vanilla extract and ¼ tsp salt to the mixture
Bake pie again with this mixture spread on top
Cool down and refrigerate covered in plastic wrap until set
Serve with whipped cream
You can also compliment your guests with the desserts like Chocolate chunk pecan pie or Cranberry Vanilla Pavlova
Pumpkin Spiced Latte –the perfect thanksgiving caffeine fix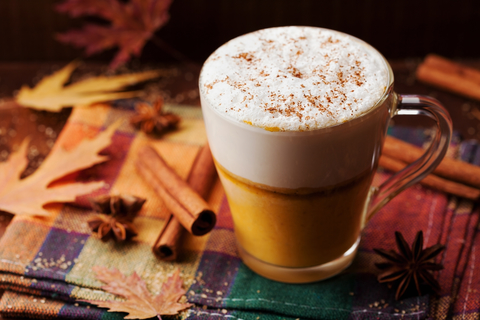 You need some caffeine after such a huge party and for that, you can beat up a pumpkin spiced latte that will invade the hearts and minds of your guests this thanksgiving.
Stir some sweetened condensed milk, heavy cream, maple syrup, and a concentrated puree of pumpkin into a strong coffee and snuggle up in front of the fireplace with your latte!