Spring is in the air and with summer just around the corner, so is love. It's no secret that this is the season of new beginnings, fresh starts and beautiful outdoor weddings. It's time to take out the sun dresses, take in the sun and get planning because it's finally here… It's outdoor wedding season!
When you think of your unforgettable big day, it is easy to drift into a magical place, where the sun is shining softly and the gentle breeze is flowing beneath a crisp white tent, peaking high above the guests you chose carefully to share this treasured day with. It's precious to you, every detail matters, every moment leading up to the biggest one of your life is important. After all, this day is the beginning of an incredible journey on which you are going to embark with your new partner in life. You are blessed.
But it isn't that easy! From the venue to the table numbers, this truly special event has many fine points to be taken care of. One of the greatest things about having an outdoor wedding is the opportunity it provides to add your special touch and make it extravagant on a budget. Something as simple as adding a beautiful white tent can be striking and elegant and also ensure that your guests stay dry. After all, Mother Nature can be unpredictable.
There are just so many things to be taken into consideration, such as your colours, tables and linens, style of chairs, size of tent, lighting and flooring, the list goes on. After being in the party rental business for decades, The Party Centre has acquired a lot of tips, tricks and advice for our brides-to-be to make the planning of this amazing day that much quicker and easier. We hope these tips will help!
Pick a tent –  Choosing the size and style of your tent will depend on the number of guests you are accommodating, how you would like to seat them, and what you wish to have under your tent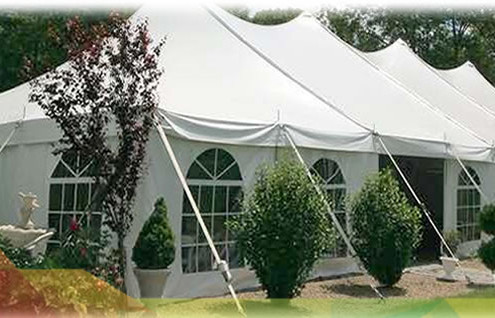 (or tents). You can opt for having a tent for just the ceremony, just for the reception, or you can have it all under one canopy. Another option to consider is having a series of smaller tents to provide a quieter space for guests to get away from the music and relax. Not only will you have peace of mind knowing your guests will be safe from unpredictable weather, but the overall look is very grande and elegant. There are many advantages to having a large tent or combination of tents divided into different areas for food service, dining, casual conversation, dancing etc. Remember to always size and divide your tent(s) with your guests' comfort in mind. 10 square feet of space per guest is required to seat them comfortably at tables. If you're having a band or dj on a stage and/or a dance floor, make sure to take those into consideration when choosing the tent or tents that are ideal for you.
Consider the weather –   If there is a possibility of a wet ground, laying down flooring may be a good idea to consider. It will level the ground and your guests wearing their best shoes will thank you. Depending on the date of your wedding, you may be dealing with really hot or chilly weather. But no reason to worry, there are solutions! The Party Centre has you covered. Consider side walls for those chilly days or nights.  Tent heaters will cozy up your beautiful tent wedding.  Where as on a hot day remember to always leave one side of the tent uncovered, otherwise your tent will become claustrophobic and hot. For those hot, sticky days, consider having fans to cool down your guests. It isnt a bad idea to keep some insect repellant around.  We have all been to outdoor events when insect bites can dampen the fun.  So keep your guests comfortable.  They will thank you later and happy guests will make your day all the more special
Add your special touch – Spruce up your surroundings! Tents are blank canvases that can be transformed easily with just a few personal touches. Flowers, table linen, lighting are all little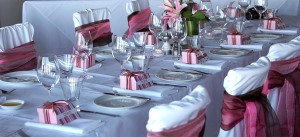 things that can transform a simple tent into a beautiful space.  Tell your story.  Choose your colour theme and start with the flowers and centrepieces. Our favourite and most cost effective idea  is white table cloths and coloured napkins adding that splash of colour to match the hues of the flowers or centrepieces. Chair bows can also be added again matching or complimenting the flower arrangements and/or centrepieces.  Consider things like wrapping the poles in fabric to make them less conspicuous and if  rain barrels are needed for your tent, place flower arrangement on them. Flameless candlelights enhance the romantic ambience that this day presents itself with and are safe under a tent. The possibilities are endless!
Food: You got to feed the gang! It better be good and it better be at the right temperature. Nothing worse than a warm beer and a cold steak. Make sure you have food warmers or chafing dishes to keep the food warm and coolers to keep your drinks cold.  Hot water dispensers for tea, large capacity coffee percolators, hot beverage carafes are all great ideas. Juice dispensers with refillable ice wells are also life savers. Serve food that will be enjoyed.  Make sure you take into account the weather when planning your menu.  Chilled soups, pasta salads, fruit kebobs are some great additions to a summer wedding menu.  
Pick a party rental company – As you already know, there is just so much to plan to make your day the one you've always imagined – and it is not always easy to buy everything.  So consider a party rental company and stay within your budget by getting a lot of your list checked off in one place! Here at The Party Centre we provide everything you need, from tents to tables and chairs, along with the table linen, chair bows, dishes and cutlery you need to enhance them.  Renting party equipment at a one-stop-shop, such as the The Party Centre is an extremely convenient and cost effective option for a bride with a lot on her plate.